July is National Ice Cream month (just in case I didn't have enough reasons to love the month of my birth), so in that Honor
Nik Snacks
is hosting the
I Scream, You Scream Blogging Event
. I adore making ice cream, so this was one I had to jump on.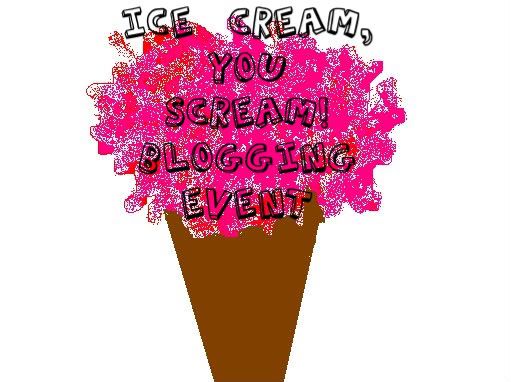 Is there anyone here who saves the crunchies for last when he or she eats ice cream cake? Come on, is there anyone who
doesn't?
There is something special about those ice cream crunchies isn't there? I love it when some kind ice cream parlor makes an ice cream that has those crunchies directly in there.
Bellvale Creamery
used to do this. They made an ice cream called Black Dirt Blast (in honor of the Black Dirt region of Orange County, NY, that is famous for its high quality onions). It consisted of dark chocolate ice cream, with a "coffee finish", chocolate cake crunchies, and toffee bits. It was to die for, but they discontinued it at the end of last season and didn't bring it back. I decided for Nik's blogging event, I would try to do my own version of it.
I'm not sure what they meant by "coffee finish", but I figured I could add a little coffee to the ice cream base to see what happened. Ina Garten always adds coffee to her chocolate recipes. Why couldn't I? I added a tablespoon of instant espresso granules to my ice cream base.
The hard part was making the cake crunchies. How do you get those little crumbles? I had a package of chocolate wafer cookies, but they weren't quite the right consitency. Then I had an idea. What if I baked them up into a chocolate wafer crust and crumbled it, sort of like Cold Stone uses a graham cracker pie crust? That might be close.
I used an entire package of cookies and about a half a stick of melted butter. I patted the mixture into a pan and bake it 10 minutes. The consistency wasn't exactly what I was going for.
If I were to do this again, I think I would use fewer crumbs, more butter, and freeze the crust before crumbling it. In the end, I liked the chocolate crust bits, but they weren't like cake crunchies.
The next difficulty I had was that my local supermarket had NO TOFFEE. There wasn't a single toffee candy on the shelves. I looked for something else that would have a nice sticky-sweet chewy consistency.

Now for the recipe....
Dark Chocolate Toberlone Crunch Ice Cream
1 package chocolate wafer cookies
4 Tbl butter, melted
1 Toblerone bar, broken into pieces. (Freeze it first and it will smash pretty cleanly)
8 oz bittersweet chocolate
2 1/2 cups milk
1 Tbl instant coffee granules
3 Eggs
1 1/2 cups heavy cream
1 Tbl Vanilla Extract
Preheat oven to 350 degrees. Mix cookies crumbs with melted butter and press into 8x8 pan. Bake about 10 minutes or until hard. Allow to cool. Break into pieces.
Melt chocolate with 1/2 cup milk, stirring until melted and smooth. Set aside to cool.
In a bowl beat egg yolks and sugar until creamy and thick.
In a saucepan dissolve coffee granules with milk and bring to a boil. Gradually stir it into the egg-sugar mixture and return the whole thing to the pan on the stove and cook, stirring constantly, until it begins to thicken and coat the back of a wooden spoon. Do not allow to boil. Add the chocolate mixture.
Strain the custard into a large bowl that contains that heavy cream. Stir together and stir in the vanilla. Allow to cool to room temperature. Cover and refrigerate several hours or until cold.
Freeze chilled mixture in an ice cream maker according to manufacturers directions. When it is a nice soft-serve consitency, gently stir in the cookie crust and Toblerone bits. Transfer to freezer until ready to serve.
It may not be the prettiest ice cream I have ever made, but it is completely addictive!
*******************************************************
So how did Kevin and I spend our 4th?
Loser geeks that we are, we had no one but each other to spend the evening with, so we had dinner at the Fireman's Carnival. Let's see what's cooking.


Call them zeppoli. Call them pizza fritta. Whatever you call them, call them delicious. I also call them fattening. With a swimsuit vacation coming in three weeks, I made a superhuman effort and just said no. I told my mother this the next day and she took my temperature.


Garden Catering, my favorite deli provided burgers, dogs, their famous Chicken Nugget and French Fry "Special" and lots of sausage and steak wedges. (Around these parts it's called a WEDGE. Got that? If you call it a hoagie, you will be laughed at. If you call it a sub they will tolerate it - barely).
A mexican deli I have never heard of provided some Tex Mex, some barbecue items, and corn on the cob. It looked pretty tasty.
However, our good friends at Rani Mahal had a booth there as well, serving up chicken tandoori, chicken tikka masala, and some vegetarian options as well.
I had some tandoori chicken, naan, rice, and one of the best lamb samosas I have ever eaten.
Hope everyone had a great 4th!